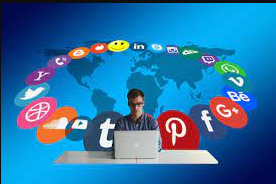 Best social media for writers
As a writer, you know the importance of building your brand and connecting with readers. With Best social media for writers being an integral part of our lives, it's essential to use these platforms to reach a larger audience. But which social media channels are best for writers? In this blog post, we explore the top options that every writer should consider when building their online presence. From Twitter to Instagram and Facebook to Goodreads – we've got you covered! Let's dive in and discover the best social media for writers!
Twitter
Twitter is undoubtedly one of the most popular social media platforms for writers. With over 330 million monthly active users, Twitter offers a wide range of benefits to help writers connect with their audience and grow their following.
One of the best things about Twitter is that it allows you to share short and concise messages known as tweets. This makes it easy for writers to share updates on their latest book releases, blog posts or other writing-related news quickly.
Moreover, Twitter provides an excellent opportunity for networking with other writers and industry professionals. You can interact with agents, editors, publishers and fellow authors through tweets or direct messaging (DMs). By building these connections, you may come across exciting writing opportunities such as guest posting and collaborations.
If used correctly, Twitter can be an effective platform for promoting yourself as a writer while also engaging with readers and other professionals in the industry.
Instagram
Instagram is one of the most popular social media platforms for writers, and it's easy to see why. With over a billion active users, Instagram provides writers with an excellent opportunity to connect with their audience and promote their work.
One of the best things about Instagram is its visual nature. As a writer, you can use images to showcase your writing process or share quotes from your latest book. This not only helps grab the attention of potential readers but also gives them an insight into your creative journey.
Another great feature that makes Instagram perfect for writers is its ability to create communities around specific topics or genres. By using hashtags related to your niche, you can easily find other writers and readers who share similar interests.
If used correctly; Instagram offers writers an incredible platform for building brand awareness and connecting with fans worldwide!
Facebook
Facebook is the oldest social media platform, but it's still relevant for writers. The platform has over 2.8 billion monthly active users, and a significant portion of them are readers who might be interested in your work.
As a writer on Facebook, you can create an author page where you share information about yourself and your books. You can post updates about book releases, promotions, reading events and other writing-related news to keep your followers engaged.
If used correctly Facebook can be an excellent tool for writers looking to build their brand and connect with readers online.
Goodreads
Goodreads is a social media platform specifically designed for book lovers. As a writer, having a presence on Goodreads can be extremely beneficial in building your audience and promoting your work.
One of the best features of Goodreads is the ability to create an author profile where you can showcase your books, connect with fans, and keep them updated on new releases or upcoming events. This allows readers to easily find information about you and your writing without having to navigate through multiple websites or platforms.
If used effectively, Goodreads has immense potential for writers looking to expand their reach within the literary community.
What to post on social media as a writer
As a writer, it's essential to know what to post on social media to engage with your audience and attract new readers. Here are some ideas:
Share writing advice: You can use your social media accounts as a platform to share tips and tricks for aspiring writers.
Promote your work: Post updates about your latest writing projects, upcoming releases, and book signings.